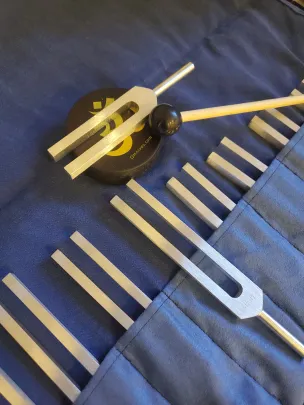 One of my favorite ways to heal myself and others are to use my tuning forks. They can help ease not only my stress but also pain.
I often use them on my lunch breaks to help lessen the stress headaches and promote calmness.
After my session with my forks I am ready to tackle my projects with more focus and patience.
Right now we are having smoke from the wildfires pollute the air. this is giving me sinus headaches. I am able to use my tuning forks to help relive not only the pressure but the throbbing pain behind my eyes.
I have noticed that when I use my forks my healing intuitions is heightened. I can get more detailed information on what is going on with a client from age of trauma, to why there is a problem.
We hall have our specialties, and mine has always been energy and sound healing. The beauty of it is that it comes in many different forms from singing bowls, drums, singing, music, frequencies like binaural beats and the possibilities are just endless.
What is your favorite form of sound healing?
Have a beautiful day and stay safe.
Sandi