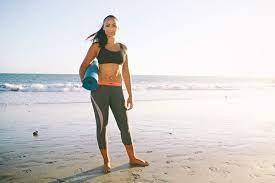 Blessed Solstice and the first day of summer!
I am looking forward to more time with family outside and enjoying the warmer weather.
Summer vacations are a great time to unwind and relax, but it is also important to make sure that you don't lose sight of your fitness and wellness goals during this time. Here are some tips on how to keep on track while still enjoying your summer vacation:
1. Set Clear Goals: Before you embark on your summer vacation be sure to set clear goals for yourself. This will help you stay motivated and keep focused while on vacation.
2. Stay Active: Even if you're not working out at the gym, there are plenty of ways to stay active while on vacation. Go for a hike, rent bikes, or enjoy a walk on the beach.
3. Choose Your Meals Wisely: Choose healthy meals and snacks while on vacation. Look for fresh and local produce options and avoid foods that are high in sugar and saturated fat.
4. Stay Hydrated: Be sure to drink plenty of water while on vacation. Staying hydrated will help keep you energized and feeling great.
5. Take Advantage of Hotel Amenities: Many hotels offer fitness centers, yoga classes, and other wellness activities. Be sure to take advantage of these amenities to help keep you motivated and on track.
Remember that it's not about being perfect, it's about finding a healthy balance that works for you. Have fun, enjoy your vacation, and stay on track towards your goals!
Keep you goals simple and in alignment with your values. You've got this!
Much Love,
Sandi